ZYGOR WARLORDS OF DRAENOR LEVELING GUIDE REVIEW: What it *really* is!
In this review we are going to show you what "
Zygor Warlords of Draenor Leveling Guide
" REALLY is! I give you a
complete overview
about it, insights into the members area, and
all pros and cons
you have to know to decide if you want to buy it or not.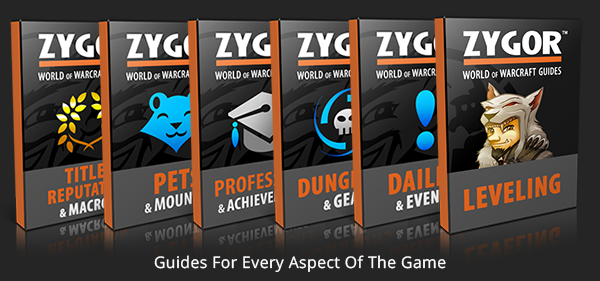 Overview:
In-Game Guide

Zygor

Yes, 100% "no questions asked"-guarantee
Zygor Warlords of Draenor Leveling Guide: What it really is
Introduction
Nothing can bring the fun of a game to an end faster than finding yourself lost, not knowing where to go, getting killed because monsters are too powerful, or having to grind endless mobs to gain levels. For all of these reasons in-game leveling guides have really become a lifesaver for millions of players. If you're new to the leveling guide scene, these are basically addon based guides that plug into the game and walk you through an optimized questing route that levels you faster than you ever would just going at it on your own.
When it comes to guide makers one of the most popular brands is Zygor Guides. For years now, they have been creating in-game guides for World of Warcraft and The Elder Scrolls Online. Most recently they put out a guide for Warlords of Draenor and I was fortunate enough to secure a review copy. In this review I was breakdown all the major aspects of leveling guides, from how easy it was to setup, how good the guide content was, what features it has, how well it works on existing characters, and how could the technical support and community is. Lets see if Zygor's Warlords of Draenor guide is worth your money.
Installation
Installing Zygor Guides was a fairly straightforward process. They have their very own desktop application which will automatically install the guides for you. The nice thing about the application is that you can keep it running in the background and it will notify you anytime there are new updates. Considering how often MMO's get changed in patches this is a really useful feature for making sure you're always running the most up to date version of the guides. One other nice touch is that the same application allows you to manage any Zygor product you buy, even for other games, so if you decide to try out Zygor's other products for WoW or ESO you're able to use the same client to manage those guides as well.
Content and Leveling Speed
Each guide is designed to take you from level 1 all the way to the highest level using an "optimized questing path" which takes you on a predetermined route doing specific quests guaranteed to offer the most XP. The guide does give you some freedom though. At certain sections in the game you're given a choice of which zone you'd like to go to next. Zygor's Guide has a suggested path for this but if you decide to go to a different zone the guide will still work there.
For this review I followed Zygor Warlords of Draenor Leveling Guide to the letter and did not deviate with any side tasks or activities.
Software and Features
The guide has two basic parts, the Guide Viewer, which displays the steps of the guide and tracks your progress, and the Waypoint Arrow, a 3D arrow that floats on the screen and points towards the location of the current step:
I've tried other leveling guides before and they tend to be too minimalist, giving me hardly any details and being hard to follow, or too ugly and bloated, taking up a huge chunk of the screen, with very little options to customize it. Zygor strikes a nice balance between both preferences.
They've actually refined the waypointing system from the last time I used Zygor Guides as it now gives a readout of the current objective right under the arrow so for the minimalists out there you could literally hide the Guide Viewer and just follow the arrow the whole time.
Of course, the biggest deal breaker question is whether the guide will work on existing characters already leveled partially without a guide because no one wants to start over from scratch. Zygor's solution for this is their Smart Injection System which looks at your quest history and automatically skips over any steps you've already completed stopping at the best place for you to start. I tried this on my level 31 character and was amazed at how easily I was able to begin questing with the guide with no problems.
Technical Support and Community
So far the only issue I encountered was getting the guide to work with other map addons and within a day of notifying Zygor they added compatibility with third party map addons. The support on their forums has been top notch which helps gives you the peace of mind knowing that if you do encounter any problems there will be someone there to help you promptly.
Final Thoughts:
Building from their years of experience making feature packed guides for World of Warcraft, and adding a few new surprises along the way, Zygor's first foray into Warlords of Draenor is easily the best guide Zygor has ever released. With this release for Warlords of Draenor, Zygor has proven themselves to be the goto source for the highest quality in-game strategy guides anywhere around.
"Zygor Warlords of Draenor Guide" Bonus:
I love the Zygor-guides, so I want to celebrate their new "Warlords of Draenor" release. I'm doing this by giving you my successful "World Of Warcraft: The Ultimate Gold Guide" (worth $47) for FREE, if you buy Zygor's guide until !
$47 FREE
Just send me an email (bobby@test-and-review.com) with your name and order ID and I will send you my "Wow: The Ultimate Gold Guide" within 24 hours! This bonus is valid just until .

Free bonus ends in:
IMPORTANT: If you would need some help with Zygor Warlords of Draenor Leveling Guide after you bought it, don't hesitate to ask me! I would be really happy to help you to start dominating Warlords of Draenor!
Click here to try out "Zygor' Warlords of Draenor Leveling Guide" now: http://test-and-review.com/download_zygor-warlords-of-draenor-leveling-guide
The official website: